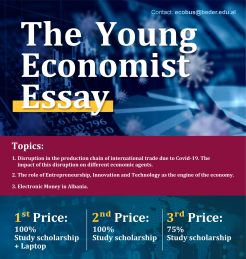 The Department of Economic and Business at Beder University College launches:
The Young Economist Essay
The aim of the essay:
To foster critical and analytical thinking of the young economists in a new area of the economy.
Participants:
Public and non-public last year high school students.
Participation requirements:
The participation is individual and the essay should be sent via email to: [email protected]
Topics:
The candidates can choose to write on one of the below mentioned topics:
Disruption in the production chain of international trade due to Covid-19. The impact of this disruption on different economic agents.
The role of Entrepreneurship, Innovation and Technology as the engine of the economy.
Electronic money in Albania.
Essay structure:
Introduction
Main body
Conclusions
References
Be sure to support your arguments based on a research and keep the coherence (linking words)
Length of essay 800-1.200 words, Times New Roman, 12.
Be sure to write: your Name & Surname; High school name.
Important Dates:
Submission deadline: 15 April, 2022
Announcement of results: 3 May, 2022
Note: The esssay should be written in English
REWARDS
First Price: 100% study scholarship + Laptop*
Second Price: 100% study scholarship
Third Price: 75% study scholarship
*The laptop will be given to the winner at the time of enrollment in one of the study programs offered by Beder University College.