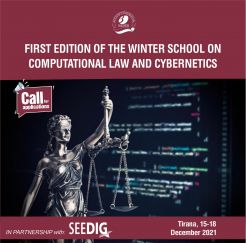 The first edition of the Winter School on Computational Law and Cybernetics will be held in Tirana on 15-18 December 2021. The three-day program focuses on cutting-edge issues in the field of law and technology.
This initiative aims to create an environment where students can learn from national and international scholars, experts in the field of law and technology.
Each day is made of two-hour sessions. Each session deals with different issues in the field of law and technology and aims to create the environment for questions and discussions between participants.
The Winter School is hosted by the Department of Law, University College Bedër in partnership with SEEDIG. The Winter School is coordinated and scientifically organized by Dr. Nertil Bërdufi.
CALL FOR APPLICATIONS
✅ This initiative is open to whoever is interested in law, policy and technology. Bachelor, master and PhD students from both law and computer sciences are encouraged to apply.
✅ To apply to the Winter School, candidates should submit their application providing their CV and a Cover Letter. Incomplete application will not be taken into consideration.
✅ Applications will be evaluated by December 10. Admitted candidates will receive an acceptance email.
✅ The event will be held entirely online.
✅ Participation is free of charge but registration is mandatory. Places are limited to only 35 participants.
✅ Participants will receive a certificate of participation at the successful completion of the Winter School.